DIRECT YOUR GIFT
WHAT KIND OF GIFT WILL THIS BE?
Faculty of Law
At the University of Toronto, we offer one of the world's outstanding legal educations. To be a student at our law school is to join a wonderful community of the finest legal scholars and students, working together in the pursuit of academic and professional excellence.

Our graduates go on to leadership positions in public interest organizations, politics, business, and on the bench and bar with an education that serves them well in making a positive impact in our community.

Commencing in the mid-1990s, tuition has risen dramatically, while per-student government funding has remained static.

We at the law school are committed to ensuring that increased tuition does not become a barrier to students attending U of T Law. U of T Law is unique in its financial aid approach; it is the only Ontario law school to offer exclusively needs-based financial aid, our commitment to ensuring current and future students can experience U of T Law as an open, accessible path to an outstanding legal education.

Please make your donation to U of T Law's Campaign for Excellence without Barriers in support of needs-based financial aid today. Our Campaign mission is to continue attracting the best and brightest students, no matter their financial situation.

By making a gift to any of our endowed bursaries, the impact of your gift is doubled, as the University of Toronto will match, through its Boundless Promise Matching Program, income generated by your gift in perpetuity.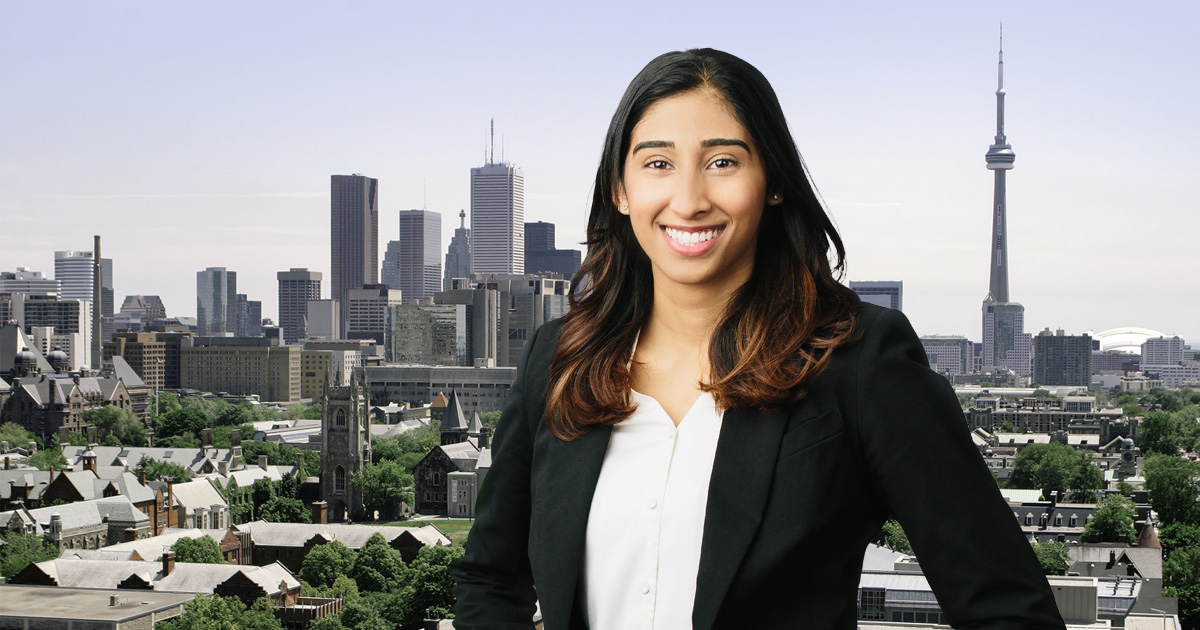 Photo caption: Davina Shivratan

IT TAKES A UNIVERSITY.
It takes a university to empower a new generation of thought leaders and visionaries to solve the toughest challenges and to offer the best and brightest students an education that will help them build a better world.
IT TAKES NEW WAYS TO TACKLE LEGAL CHALLENGES.
JD/MBA student Davina Shivratan believes students shouldn't have to compromise to experience a great legal education.
Davina is deeply appreciative of the strong academic foundation and opportunities she has taken part in at the Faculty of Law, all of which have helped her to develop the analytical, advocacy and leadership skills that will be vital to her future success.
CONTACT US
For more information, please contact us:
Donations Management
J. Robert S. Prichard Alumni House
21 King's College Circle
Toronto ON M5S 3J3