DIRECT YOUR GIFT
WHAT KIND OF GIFT WILL THIS BE?
Faculty of Law
Campaign for Excellence without Barriers
In 2018, the Times Higher Education rankings revealed that the University of Toronto's Faculty of Law is one of top 10 public law schools and in the top 15 overall.

Accepting the best and brightest students, regardless of their financial means, has long been an important part of what makes our faculty so exceptional. Juris Doctor candidate Kia Dunn is a great example of this. You can read his story below and find options to help students like Kia or support other urgent priorities at U of T Law.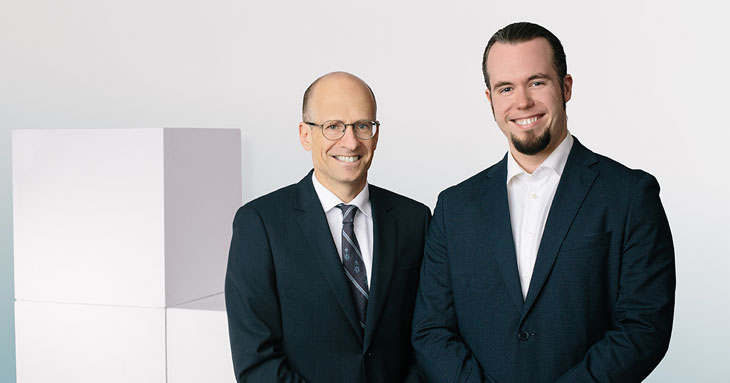 U of T Law Dean Edward Iacobucci (LLB 1996) at left, with Kia Dunn

After completing his bachelor's and master's degrees in philosophy, Kia Dunn felt a strong attraction to law. "The real draw for me in philosophy was ethics and values. Understanding why we have them and how they work in society. Law is the best practical application of that education."

Kia, however, had worked two jobs while pursuing his first degrees and when both parents passed away, law school seemed out of reach. Needs-based bursaries from generous donors made all the difference. Kia is now completing a law degree and conducting research to help corporations promote societal well-being.

"It's an issue I'm passionate about and one I've been fortunate to delve into thanks to the generous financial support of donors," he says. "Alternative corporate governing structures seek to augment corporations' innate drive to generate profit with additional social ends—from environmental protection to improved labour practices."

Donors play a critical role helping the Faculty of Law to break down barriers faced by talented students—particularly those like Kia, who come from underprivileged communities. "On behalf of fellow students moved by your generosity, thank you for giving us the building blocks to shape our futures and the future of law," he says.

Kia Dunn, Juris Doctor 2019 candidate
CONTACT US
For more information, please contact us:
Donations Management
J. Robert S. Prichard Alumni House
21 King's College Circle
Toronto ON M5S 3J3