DIRECT YOUR GIFT
WHAT KIND OF GIFT WILL THIS BE?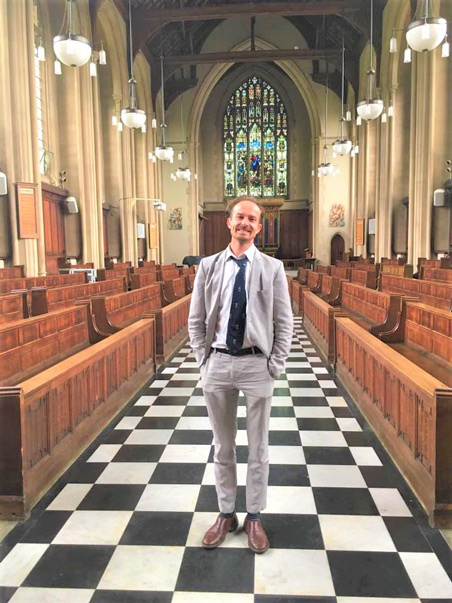 In Memory of Dr. Henry Moller the Faculty of Applied Science and Engineering along with family and friends have established the Henry Moller Graduate Scholarship in honour of his contributions to his PhD research at the Faculty's multimedia lab. The scholarship will be awarded to future graduate students in the Interactive Media Lab, who demonstrate academic excellence and who are undertaking advanced research relating to mental wellness and multimedia.

Dr. Henry Moller was doing his PhD in Mechanical and Industrial Engineering and was on track to complete the research in 2021 before his early death. Supervised by Professor Mark Chignell, Henry's research topic was entitled "Windows to the World" and the first three years of his research were supported by a major grant from the Social Sciences and Humanities Research Council. His research was evaluating the innovative TEMM (Technology-enhanced multimodal meditation) virtual reality system. Henry developed this system to provide leisure therapy to people who are unable to travel to beautiful places such as those that could be experienced in the TEMM system.

Please help us reach our goal of $50,000 to endow the scholarship in Henry's memory and award it to deserving students in perpetuity.

Biography:
Dr. Henry Moller's personality was characterized by his brilliant intellect and his great sensitivity. He used his gifts to further his medical training and specialization in psychiatry and sleep medicine. He attained his Bachelor's and Master's Degrees in Sciences and a Master's Degree in Public Policy at the University of Toronto. Privately he loved his family, his friends, traveling and sailing. He showed his life-long love of music and especially the European classic and romantic composers, by singing in the Toronto Choral Society and by including their music in his work about virtual reality and patient wellbeing through multimedia.

He dedicated his professional life to helping his patients through a holistic approach to mental health and wellness.

Alternative options for donations:
Cheque – please make cheque payable to the University of Toronto and in the memo write: "Henry Moller Scholarship/ U of T Engineering". Mailing Address: University of Toronto, Donations Management, 21 King's College Circle, Toronto, ON M5S 3J3
For other options, please contact Nadia Gibbons at 416-978-0380 or nadia.gibbons@utoronto.ca
Thank you!
CONTACT US
For more information, please contact us:
Nadia Gibbons
Senior Development Officer, Leadership and Annual Giving
Faculty of Applied Science & Engineering, University of Toronto
Myhal Centre, 55 St. George Street, Suite 670
Toronto Ontario M5S 0C9